The BT home hub 5 broadband router is notoriously bad at handling internet connections and particular DNS. Often, even with parental controls switched off, users will get an error message stating that 'Trying to connect to non-BT DNS server'. This guide instructs you how to setup a static IP address and use Googles more reliable DNS servers on your box
*This guide is specifically aimed at customers who use a BT Infinity home hub 5 router which use the IP address range of 192.168.1.1 – 192.168.1.254. This guide also works for customers on other ISP's but you will need to ascertain what IP address range your router uses, so that you can use a static one 'within the same range'
Firstly, on your player, go into SETTINGS, OTHER and MORE SETTINGS
Then go into WIFI and turn it on if not already switched on
If you are already connected to a WIFI network, select that network from the list and from the pop-up choose FORGET
Now, select the network again to begin the connection process from scratch.
Press the return key on the remote to hide the on screen keyboard, enter your password and scroll down and select SHOW ADVANCED OPTIONS
Form the new options now visible, scroll down to IP SETTINGS and select STATIC instead of DHCP.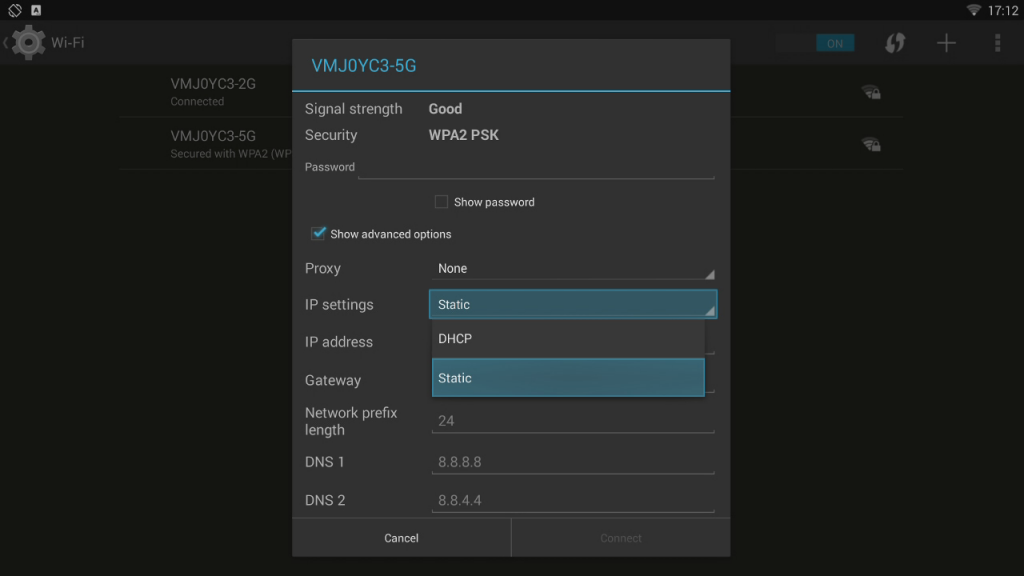 This will reveal more settings to add your static IP address. The BT home hub 5 uses IP addresses with a prefix of 192.168.1 so now you need to scroll down and enter an IP address from the same range that isnt being used already. For instance, in this example we have used .70 as routers usually assign addresses from 1 -20. Enter the default gateway address which ends in .254 for BT home hub 5 routers.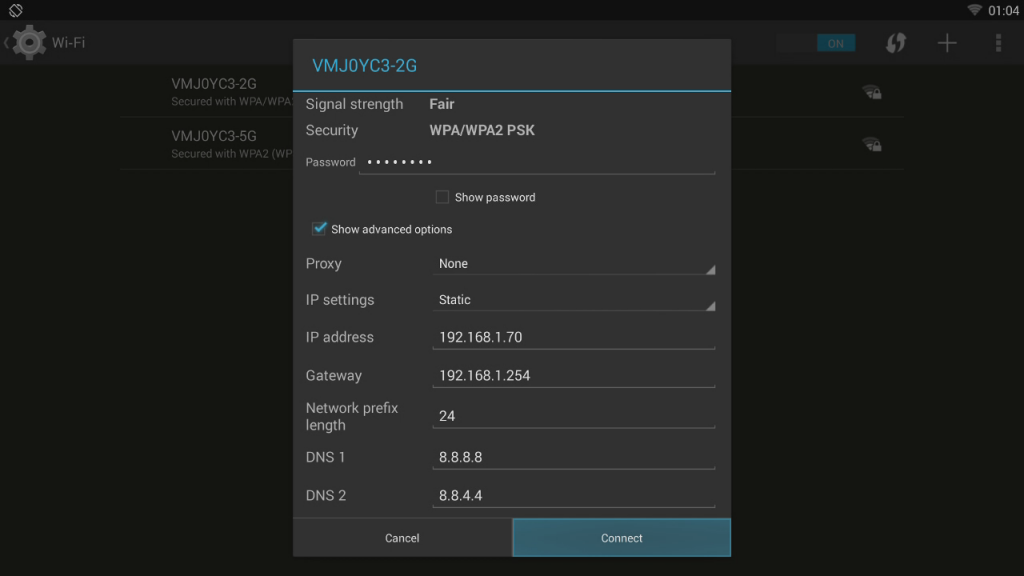 For DNS you will see that 8.8.8.8 is already populated (in white) which is the default Google DNS server. Scroll down and also enter 8.8.4.4 as the secondary address (currently greyed out). Once you have all the DNS servers entered, the option to CONNECT should turn white.
Scroll down and select it to connect to your network.
Please follow and like us: